We've had another busy week, but that seems to be normal around this farm. I had intended to write last week, but time got away from me, so I hope you will find this post interesting. The first thing I want to let you know about is my upcoming presentation in Washington D.C.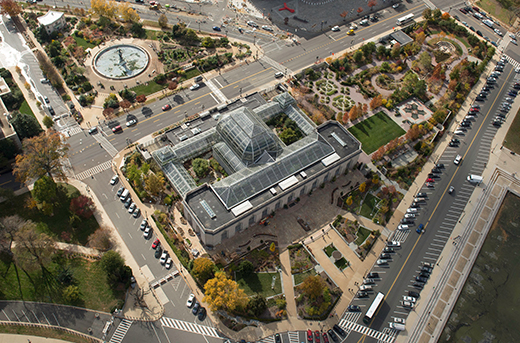 On August 19th I will be speaking at the U.S. Botanic Garden in Washington D.C.  This is a Ariel photo of the gardens and below is the listing from their website about my presentation. Here is the link to their website  Lecture: Cattail Moonshine and Milkweed Medicine | United States Botanic Garden  If you can join us for this event, that would be wonderful, but remember that you must pre-register to attend this presentation. Here are the details…
Lecture: Cattail Moonshine and Milkweed Medicine
Tammi Hartung, Herbalist, Organic Farmer, Author and International Speaker
Tammi will share insights and stories about many North American plants, and how people have used them since early times into the future. Cholla cactus as tattoo needles, cattails for biofuel and cleaning waterways, hickory bark as delicious syrup, and Echinacea for medicine or to comb your hair! Join Tammi as she tells you how milkweed can clean up an oil spill disaster or keep you warm on a snowy day and more about all the plants we use in our daily lives.
DATE: Saturday, August 19
TIME: 10:30 a.m. to 12 p.m.
LOCATION: Conservatory Classroom
FREE: Pre-registration required
In addition, East City Bookshop in Washington D.C. will be selling copies of my book
Cattail Moonshine & Milkweed Medicine.
If you are interested in buying a copy either before or after the presentation (they have them in stock now), this is the place to go to do that. Here is their website link 
East City Bookshop
. East City Bookshop has been very kind to offer to sell my books, since the Botanic Garden doesn't allow anything to be sold from the property, including my books (or anything else for that matter) at the U.S. Botanic Garden itself, so I won't have books available to buy at the presentation itself.
Desert Reef Hot Springs Garden Room Project
We also had an interesting morning recently putting a new greenhouse skin (that's what we call the double layer of plastic covering) on the Garden Room greenhouse at the Desert Reef Hot Springs. This was a big project, but we had fun, and here are a sequel of photos to show you how the project went. Oh, and this hot springs is amazing, so if you are interested in checking it out, here is the link
Home | Desert Reef Hot Spring
. Chris and I enjoy soaking there. It is one of our great relaxation joys.
Here we are putting on the top layer of plastic and Chris is on top of the greenhouse hooking the plastic into the wiggle wire track that will hold the plastic in place securely.
Sean is holding onto Chris' ankles as Chris makes an adjustment to the plastic before we put the shade cloth covering on next. Good thing Chris isn't bothered by heights, aye!
The shade cloth is over the greenhouse now and it is all hands on deck to hold it in place so that it can be screwed on to secure it. This allows the greenhouse to stay cooler during the hot months of the year.
All finished! The new plastic is in place and the shade cloth secured on top. Many thanks to Lizz, Gina, and Sean for helping Chris and I work on this. Ro is thrilled with the end results and we know that LJ is smiling about it too.
Gina, Sean and Shrek are harvesting the Calamentha 'White Cloud Strain' seed. Now is the time of year when every day there is seed to be harvested.
Chris harvests the Pennisetum grass using a flower harvesting rack to comb off the seed heads when they are ripe. He makes it look easy here, but make no mistake, this task takes strong shoulders and back, and strength in your hands and wrists. Our planting beds are 4′ x 100′ and there are three beds of Pennisetum to comb, so it is a pretty big task to do. He will comb these beds several days in a row for each of two harvesting cycles.
One thing we have been noticing a lot of this summer are the praying mantis, which is a beneficial predator insect that hunts pest insects. In the flower seed field, they have been thick in the ornamental grass crops and they are hunting and eating grasshoppers!! Yippee!! We are so happy to have them here helping to manage the grasshoppers. Grasshoppers not only eat the foliage of plants, but they love to eat the seed too, so they are simply not welcome. Last year we had a much worse grasshopper problem, but this year there are still a lot more grasshoppers then we would like. Since the praying mantis are eating the grasshoppers, we haven't needed to address this pest problem in other ways…the praying mantis are simply handling the problem for us.
And this is happening in the greenhouses too, where grasshoppers can get in through the open shutters and doors when the greenhouses are being cooled. In the Hygge House Greenhouse this very large and brown praying mantis has been roaming about and eating grasshoppers for weeks now. He has made his color brown so that he blends in to the color of the pots when he hides while he is waiting for his prey (in this case grasshoppers) to come by and then he catches them and has them for either breakfast, lunch or dinner! He is about 6″ long and he comes up on top of the hens & chicks succulent plants and watches me as I'm watering each day.
 In the Basil Greenhouse there is a green praying mantis living in the iceplants. He has made himself green so that he blends into the foliage of the iceplants as camouflage while he is hunting. Praying mantis have the ability to change their colors according to the habitat they are in so that they are not too easy to spot. They are pretty social insects and they seem interested in watching us as we move about in the greenhouses, the field and gardens. They are totally harmless to people, and indeed, if you find one in your garden you can very gently stroke it's back and they seem to enjoy this. They don't bite or sting, so don't worry. Instead, make them welcome, because they are great hunters of pest insects and an ally to organic gardeners and farmers. Your kids will love them, but teach your kids to show respect. These creatures belong to Mother Nature and humans should show them honor.
I've been helping my parents with their gardens too. With all the wonderful rain we've gotten in July the gardens are beautiful and the weeds are growing of course too. I've been helping mom and dad keep their gardens up this summer. Recently, I was there weeding and they were keeping me company on the porch, visiting as I worked. It was a pleasant way to spend my morning.
It's August now and in truth, my summer feels like it has pasted me by. A lot has been happening and a lot of things to keep us busy here. I hope you are enjoying your gardens and your summer. Consider spending some time helping your parents or grandparents, older neighbors or friends that are enjoying their elder years. They will appreciate your helping hands and you will surely gain the benefit of some wisdom they have to share with you while you are there.
Cheers!